The Kerama Islands are located 40 km off the shore of Naha city, the largest city of Okinawa.
They are a group of approximately 30 islands of all sizes and the largest inhabited ones are Tokashiki island, Zamami island and Aka island. This maritime zone offers a sea transparency standing at the world top with an underwater visibility ranging from 20 to 50 meters.
Come and enjoy the healing and mesmerizing world of the "Kerama Blue"!
Here are some of the characteristics that make diving in the Kerama Islands a must-do!
5Reasons to choose the Kerama Islands to dive
1. A world-class sea transparency
The first thing to mention about the Kerama Islands is the amazing underwater visibility: it averages 30 meters! That particular water quality results fromthe low presence of plankton, the coral sand quality and the fringing reef terrain.

Very strong sun rays penetrate the sea water in summer. Diving in the Keramas to admire this scenery of blue rays is one of the main reasons that attract divers here!

Poisonous fish are rare in the Kerama Islands, the currents are gentle and large creatures are not often seen.

However, the simple diving terrain and the friendly sea environment favours a reassuring and healing experience underwater. It is also welcoming to novice divers and perfect for divers in need to build up on diving practice and experience.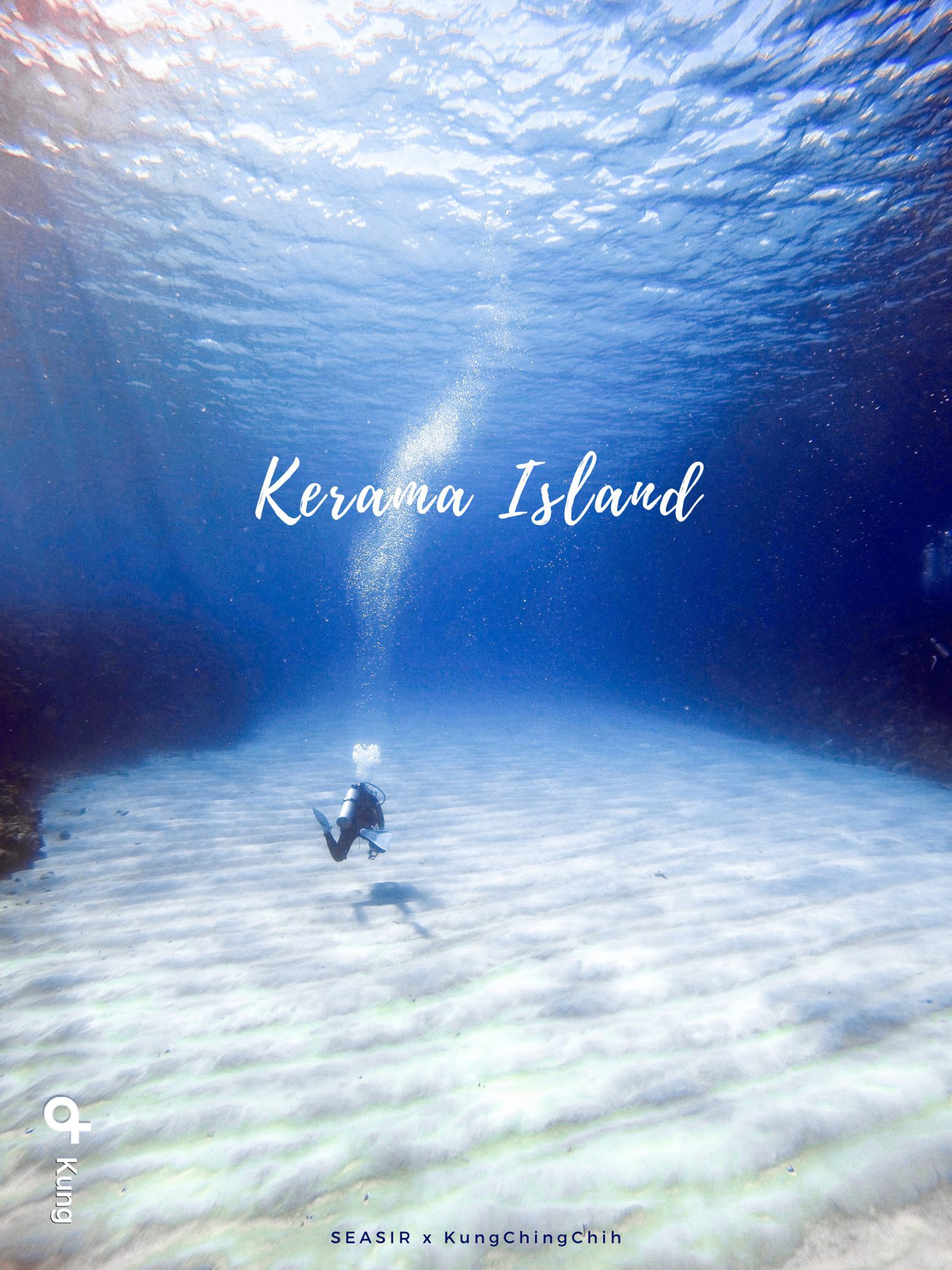 .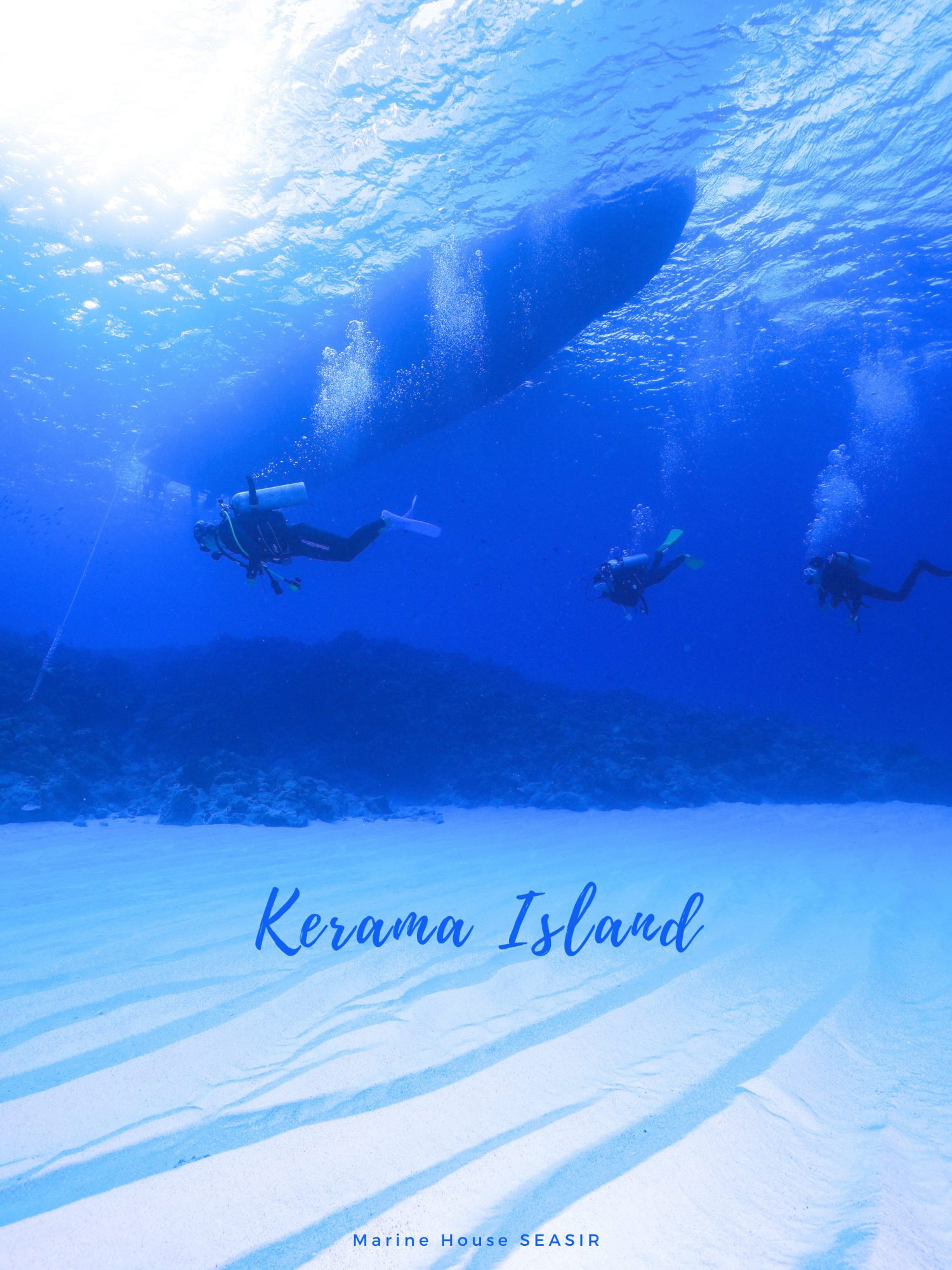 2. The rich marine wildlife: a colourful show!
The Kerama Islands are a "national park" of Japan. This designation means that fishing boats are not allowed in large quantities in these waters.
There are several species of sea turtles, fish and an amazing variety of corals to be found here. The Keramas are also a breeding ground for humpback whales and are habitat to more than 2,000 species of marine wildlife.
The Kerama Islands national marine park are also a nature reserve owning 60% of the corals speciesexisting in the whole Japanese maritime zone.
3. Have a swim with sea turtles
The Kerama Islands are the natural habitat to several species of sea turtles. The three most commonly seen types of sea turtles, which are also endangered species, are the Green loggerhead turtle, the Hawksbill turtle, and the Loggerhead turtle. You will see a lot of youngsters, recognizable by their beautiful shell colour.

An encounter with animals in their natural habitat always falls under luck but the chance of it happening in this area is extremely high!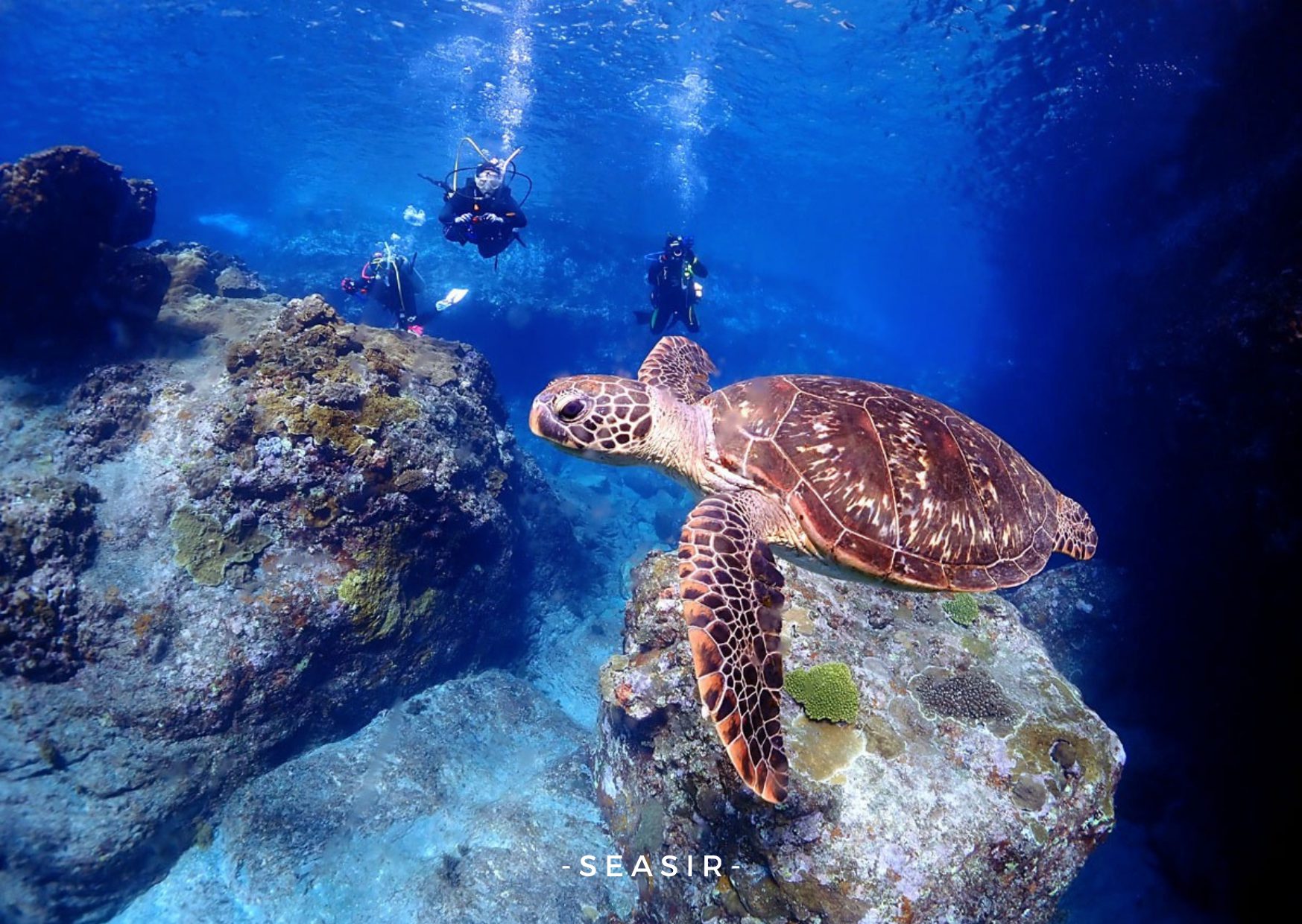 4. More diving spots than you can visit!
Dive spots in the Kerama Islands are only reachable by boat. Depending on the location of your dive center, the time to get there will vary but you can count around 20 minutes by boat to enter the Kerama National marine park's waters. Most centers will leave from Naha port or the American Village port.
There are more than 50 diving spots spread throughout the Keramas Islands, from cave diving points with divine rays of light flowing through, immaculate sandbeds, macro dive sites, manta rays & shark gathering points, and romantic drift diving points.
In spite of the effects of typhoons passing through Okinawa each year, 95% of the corals reefs of the Keramas are in a healthy and vibrant state, waiting to be visited.

This wide choice of dive sites also provides us with all kinds of difficulty levels to enjoy: if some are fit for advanced divers, others will be perfect for beginners! Overall, most locations in the Keramas are suitable for recreational Fun diving.
5. A diversity of diving trips
① Full-day Diving trips from Naha city
The closest point of departure to reach The Keramas from Okinawa mainland is Naha city: a short 20 minutes boat ride will get you there.
This makes it possible to visit as much as 3 different dive sites on a full-day tour.

We will gather at 8:00 am, enjoy two dives before lunch time, and another swim in the afternoon. Under normal sea and weather conditions, our third dive should be done by 3:00 pm, allowing us to be back to Naha at around 4:00 pm.

This will leave you free to enjoy your time in the city after your activity: dining, other activities or entertainment in Naha will be there for you!

SEASIR Naha offers multilingual guiding, free pick-up and drop-off service (to and from a list of points inside of Naha city) and own its own speedboats to operate tours.

See more about our tours and book at SEASIR Naha
② A relaxing diving trip to the outlying islands!
You can take a ferry or a highspeed boat from Tomari port in Naha city, to get to the Kerama islands. Know that you can also spend the night there. The inhabited islands of the Keramas are: Tokashiki Island, Zamami Island, Aka Island, and Keruma Island.

Most dive shops provide exclusively boat diving trips.
One of the merits of holidaying on an island inside the Kerama National Marine Park to dive, is how remarkably close you will be to any dive sites: a short 5 to 10 min boat trip is all you will need. This also allows you to return to land for a rest after each dive. Last but not least, spending the night in the islands will make night diving trips a possibility.

The urbanisation of the villages inside the national park is also limited. For example, you will find no convenience stores or supermarkets in the village, but a few small grocery stores run by the local residents.

In this tranquil environment where nature is well preserved, you will see wild deer strolling down the streets of Aka island leisurely. It is also not rare to spot them relaxing on the beach!

Life on Aka island is a picturesque scenery of unthreatened wildlife during the day, while unpolluted enchanting starry skies await you at night. The island is a must-see diving holiday location for both diving amateurs and aficionado.
SEASIR Aka provides both diving trips and water sports, as well as an accommodation especially designed for a diver's needs.

See more of us here : SEASIR Aka
---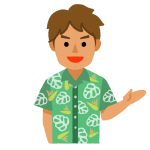 SEASIR君
Here are our 5 top reasons to visit the Kerama Islands for your diving needs in Okinawa! We hope that you will find this information useful when planning your next diving trip to Japan!