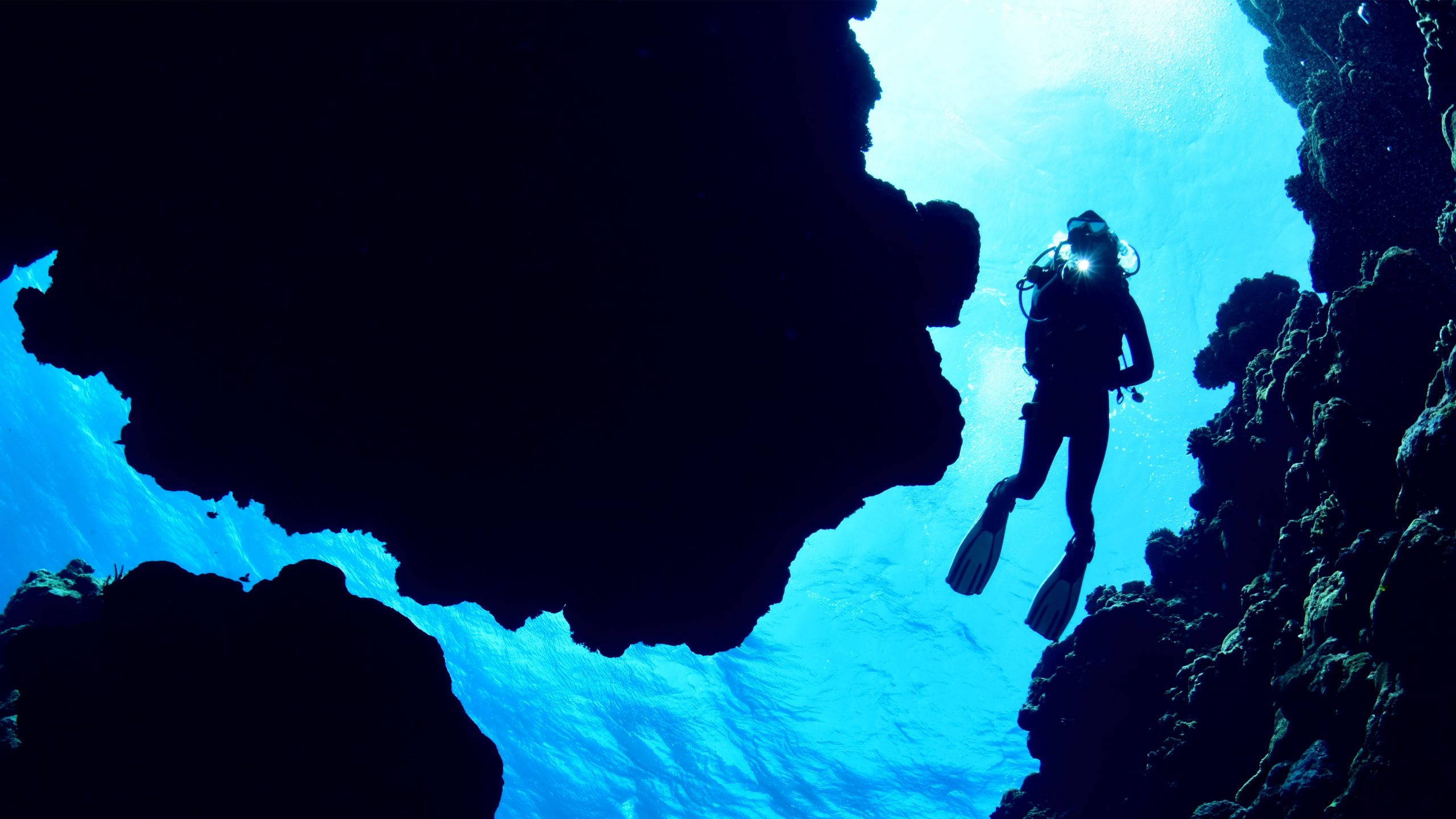 Why the Keramas?
While there are very famous diving sites in Okinawa
such as Ishigaki, Yonaguni and Miyako island, we mainly dive in the Kerama islands.
Here are some of the reasons why we choose to dive in this national marine park!
Diving sites map of the Keramas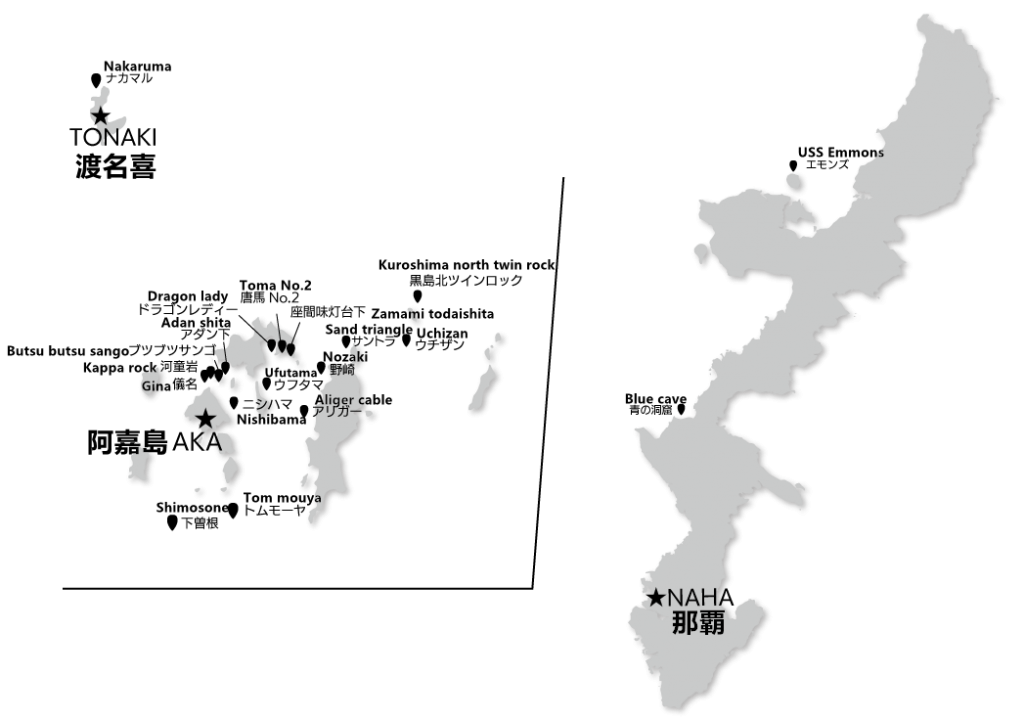 Popular sites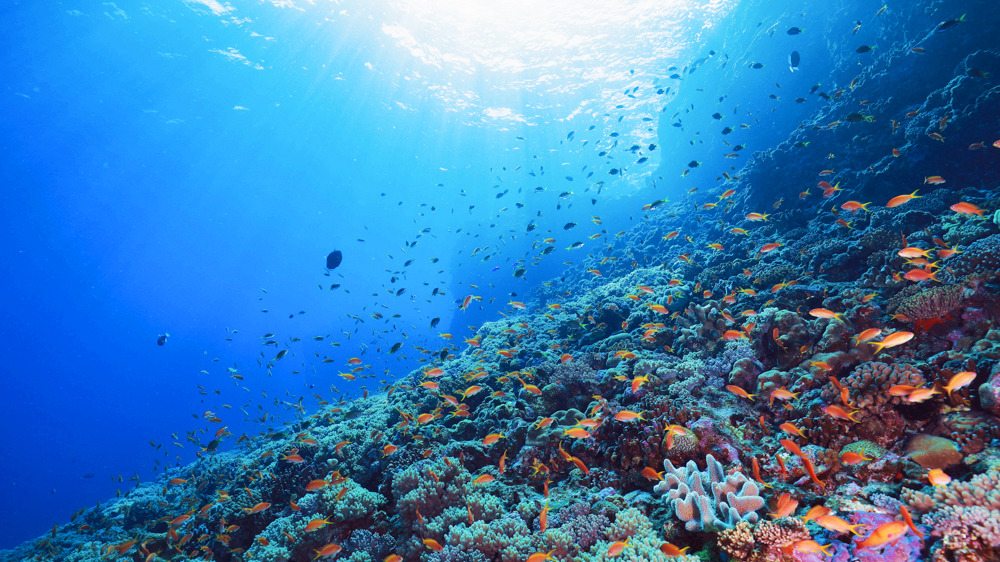 Kuroshima North Twin Rocks
LEVEL:
DEPTH: ~40m

This is one of the most popular diving sites in the whole of the Keramas. Divers of all levels can have great fun here! You will find a dynamic drop-off and oceanodromous fish like tunas swimming in group around it.

What you may see there: sea goldies, double lined fusiliers, pygmy seahorses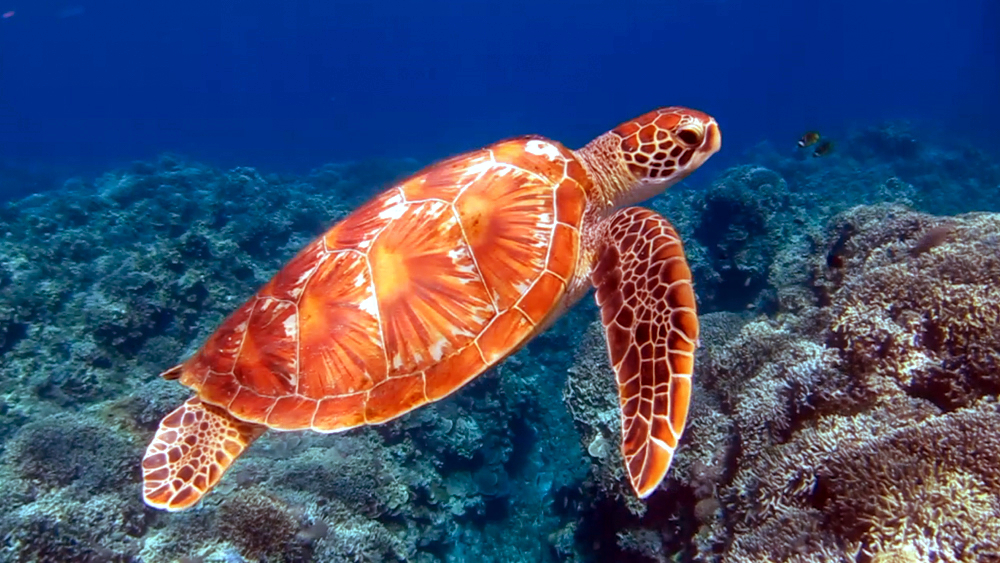 the Sand triangle
LEVEL:
DEPTH: ~25m

The perfect site for beginners because the sea here is usually very calm. The sea turtles encounter rate is very high. 5 types of anemonefish (clownfish) .can be seen here

What you may see there: sea turtles, anemonefish, etc.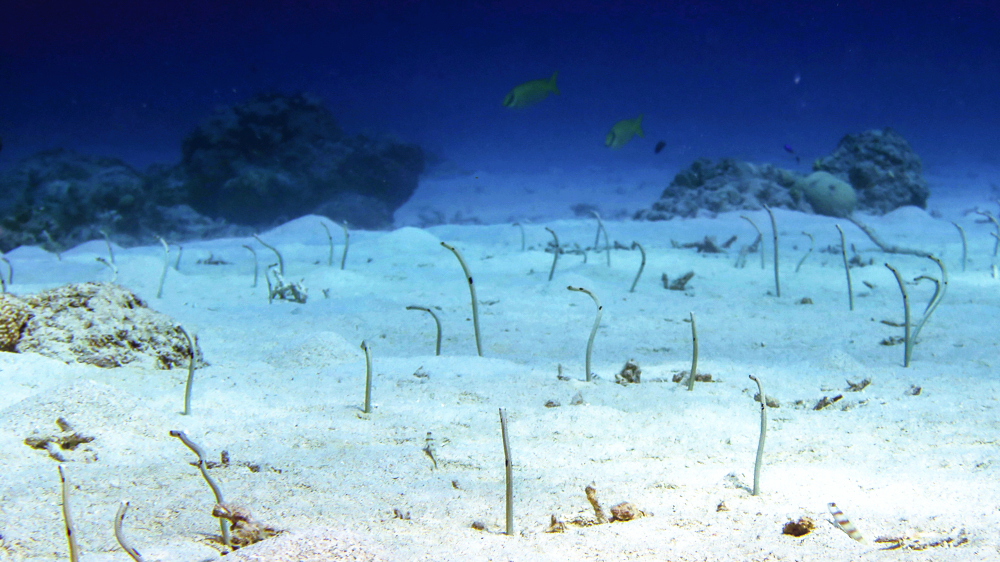 Toma No2
LEVEL:
DEPTH: ~35m

A calm sandy point suitable for fish watching.
The colourful fish offer an amazing contrast on the immaculate sandbed.
Introductory diving is possible here.

What you may see there: garden eels, blue green damselfish, girdled cardinalfish, etc.
Dynamic sites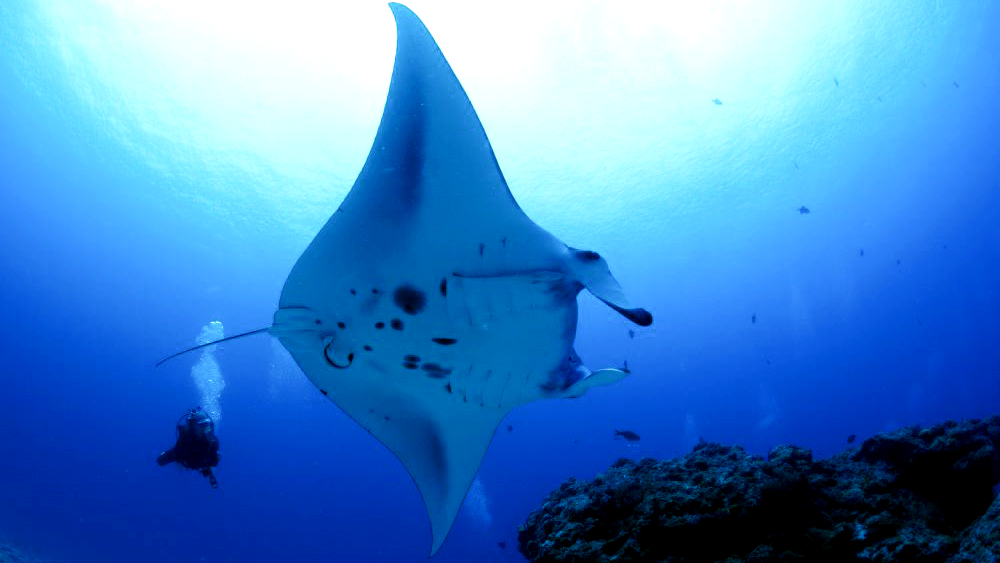 Uchizan
LEVEL:
DEPTH: ~35m
This outer reef point with strong currents is often used for drift diving.
A variety of sharks, groups of giant trevallies, and even manta rays can be seen here.
Do not miss it if you are an advanced diver!

What you may see there: alfred mantas, giant trevallies, ribbon eels, etc.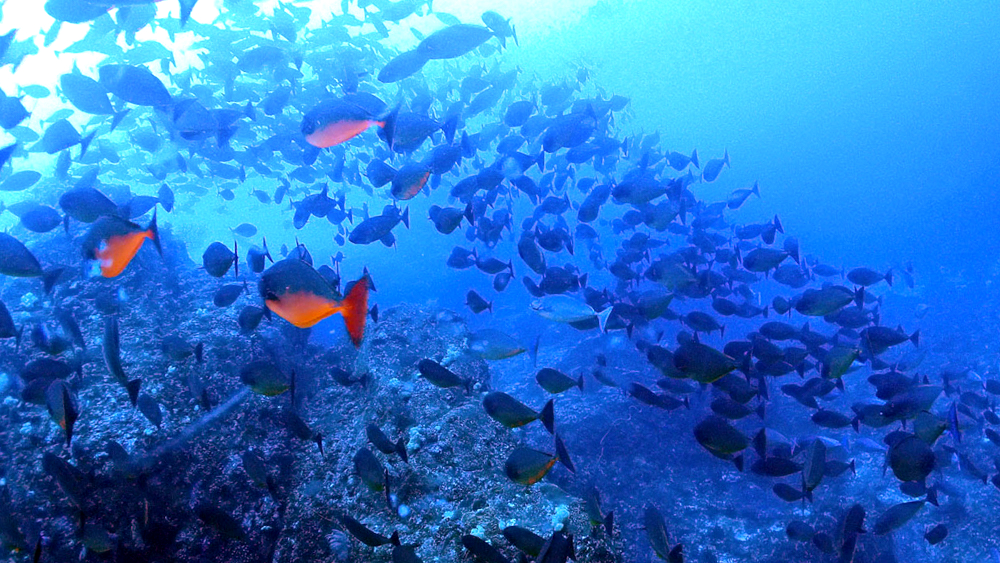 Shimosone
LEVEL:
DEPTH: ~40m
Currents are often too strong to dive at this location but with a bit of luck you could enjoy great diving here! Millions of fish await you and oceanodromous fish are easily seen too!

What you may see there: dogtooth tunas, giant trevallies, sharks, sleek unicornfish, etc.
Other sites of note
Most representative of the Keramas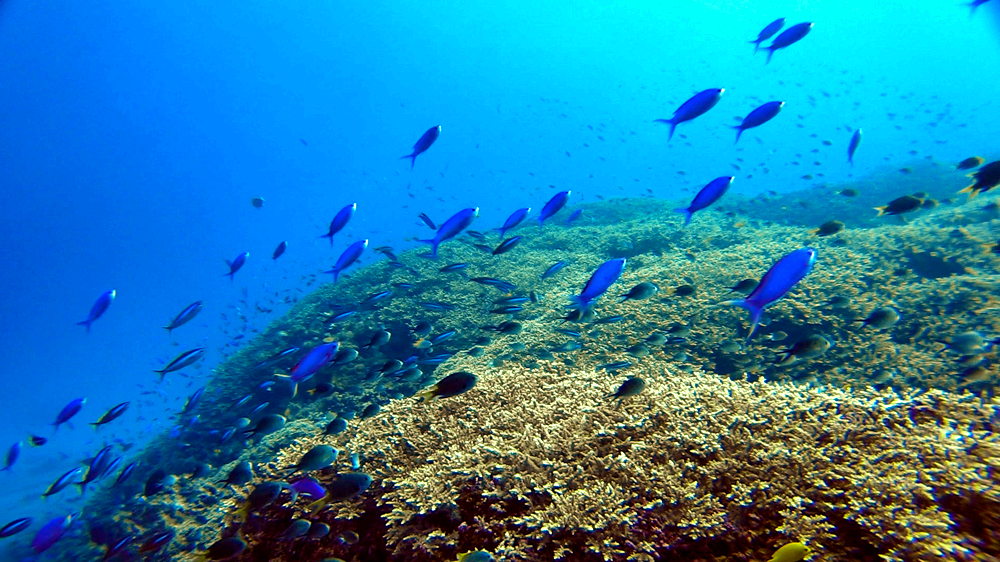 Nozaki
Highlight: a monumental coral colony worth seeing! From winter through spring, you can also enjoy Broadclub cuttlefish (squid) spawning.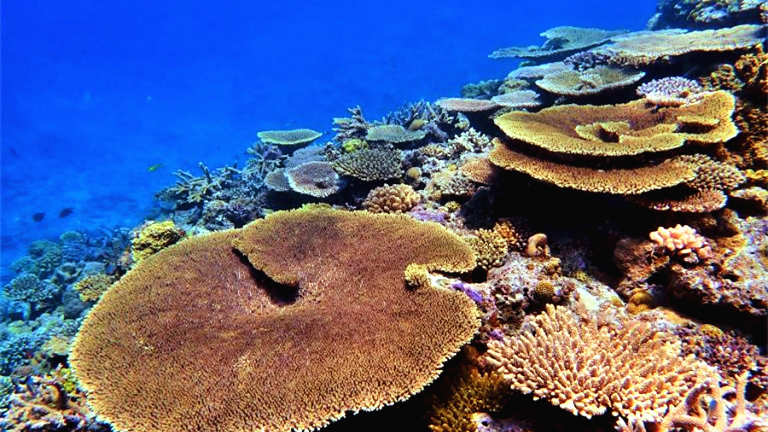 Aliger cable
An extensive variety of corals and hundreds of double-lined fusiliers and dogtooth tunas can be spotted in theses shallow waters.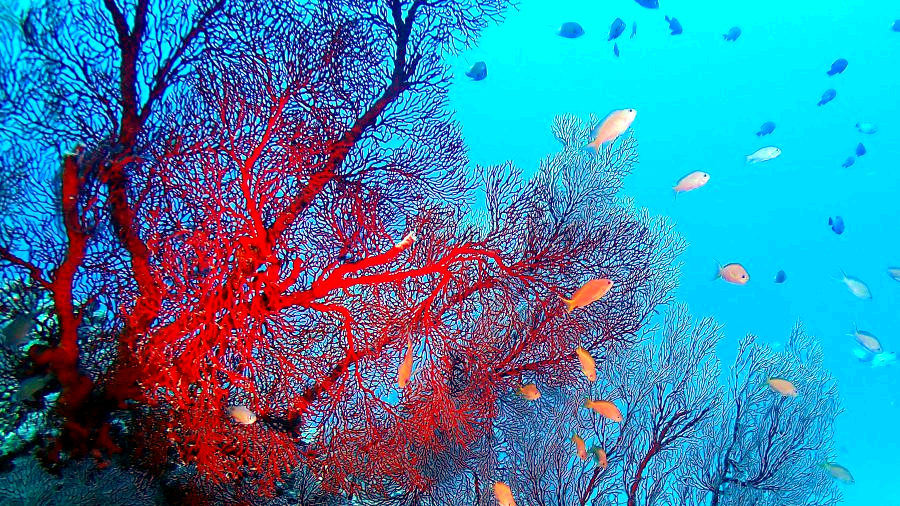 Butsu butsu sango
The beautiful and majestic red fan corals are plentiful here. Green turtles and yellow boxfish are also often seen in the area.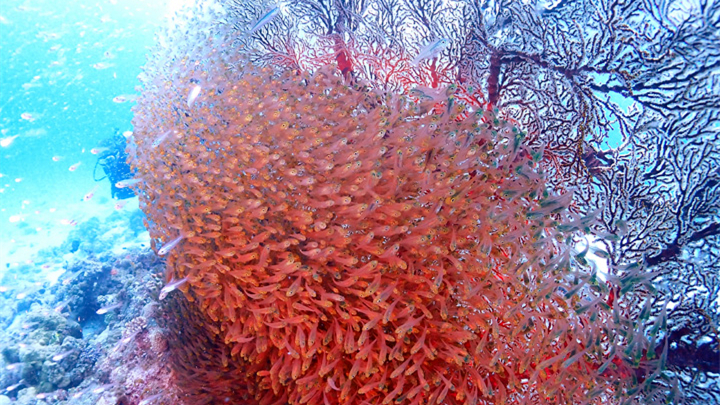 Ufutama
Lots of swallowtail cardinalfish swarm around a large coral rock in the middle of a white sandy stretch.
Unique sites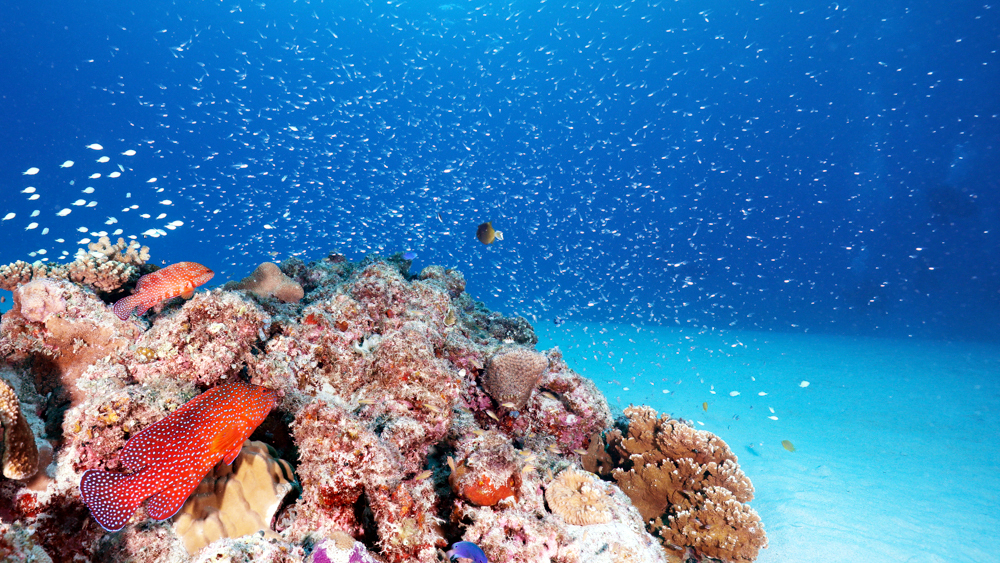 Dragon lady
A peaceful site perfect for fish watching. Habitat of sea slugs, jawfish, and frogfish.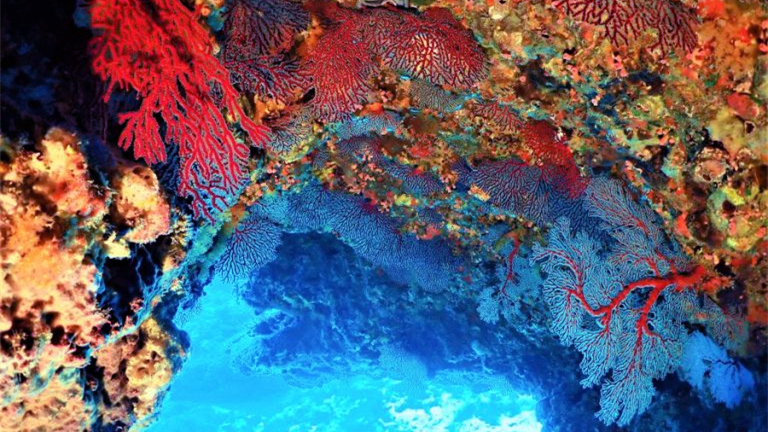 Kamigusuku
the red corals, sea goldies and the lights filtering through the rocks make for a most mesmerizing seascape.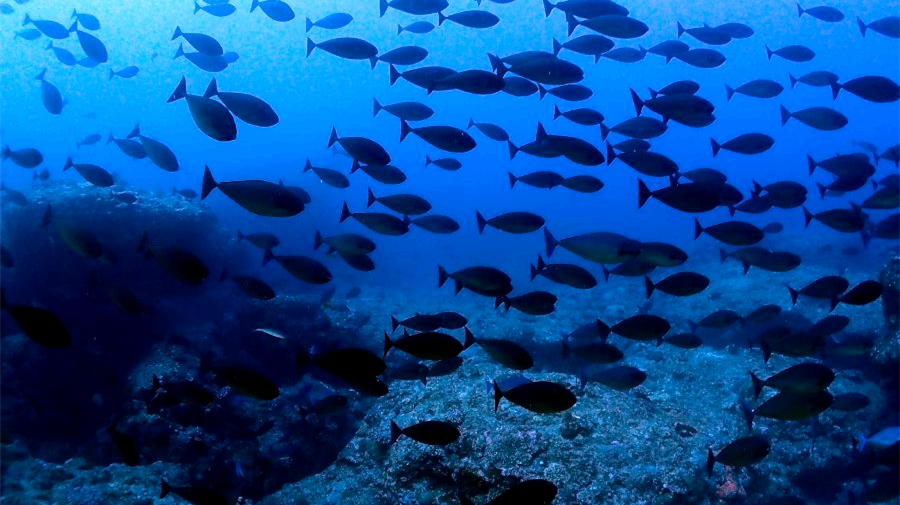 Tom Mouya
The Dogtooth tunas, groups of yellowfin goatfish and striped large-eye breams can be seen in this site sometimes traversed by a strong current.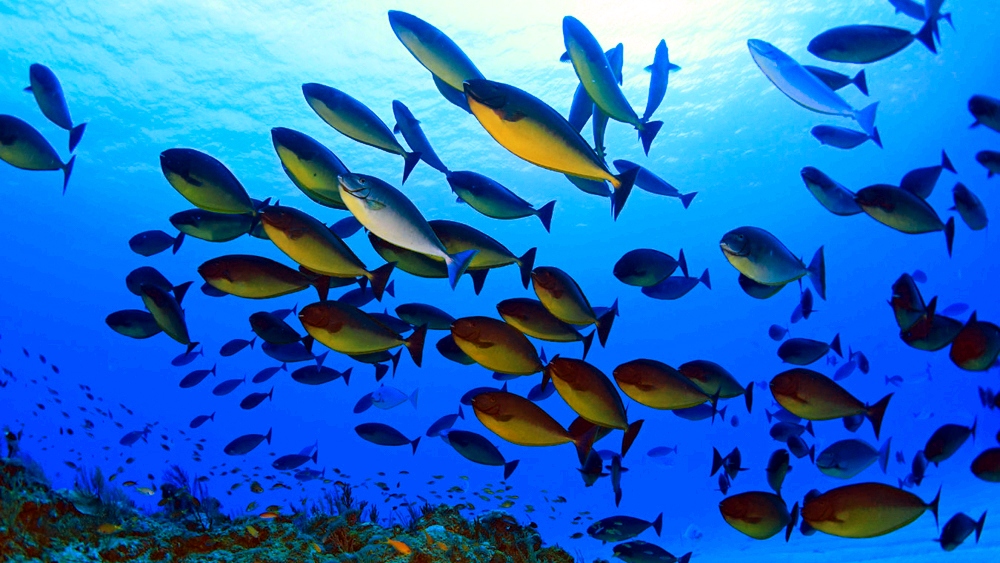 Nakaruma
A suitable spot for drift diving, usually benefitting from great visibility. f you are lucky, you could find massive groups of dogtooth tunas.
Spots only reachable from Seasir Aka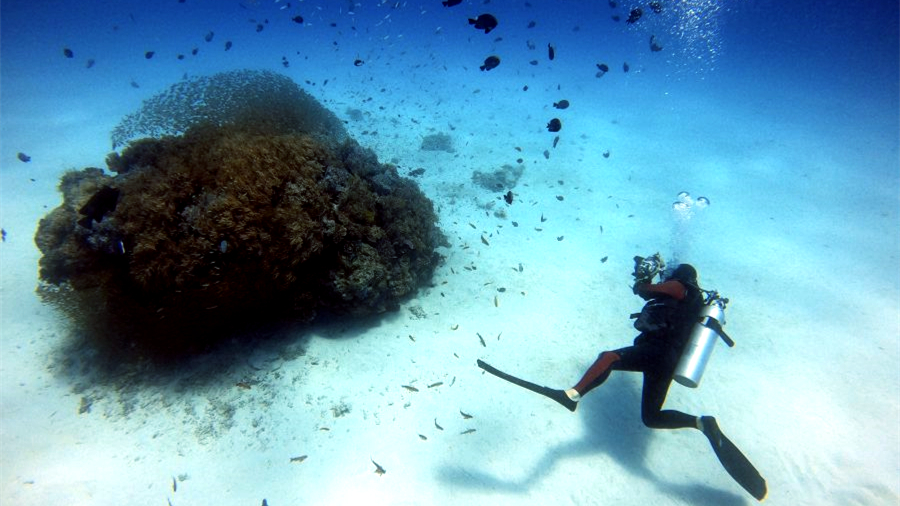 Nishibama
This is one of the most peaceful white sandy sites of the Keramas.
Admire thousands of swallowtail cardinalfish and blue green damselfish swimming around the corals.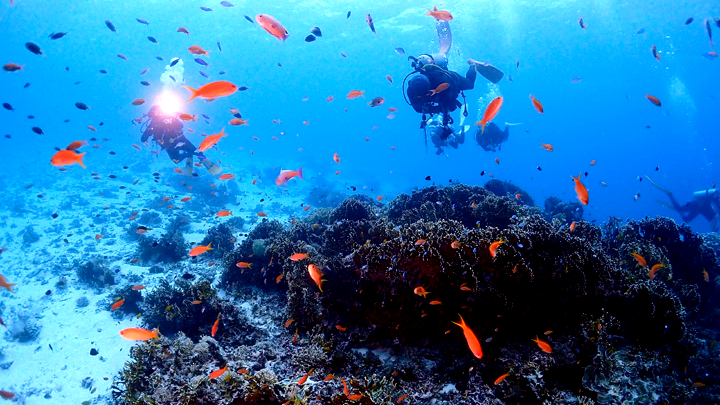 Adan shita
The perfect site for fish watching. You can find ribbon eels, lemon damsels, Indo-Pacific sergeants, leaf scorpionfish, etc.
Suitable for beginners.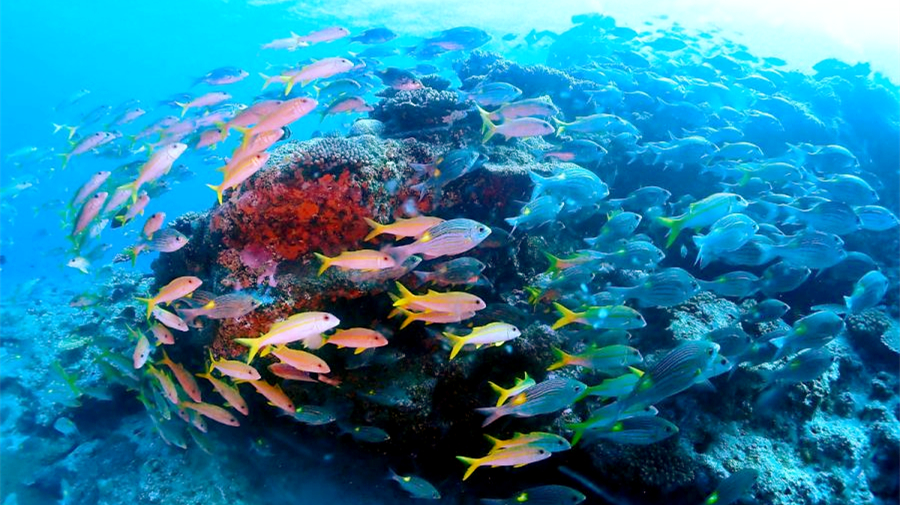 Kappa rock
A spot inhabited by a colossal group of striped large-eye breams and yellowfin goatfish. Whitetip reef sharks can also be spotted here.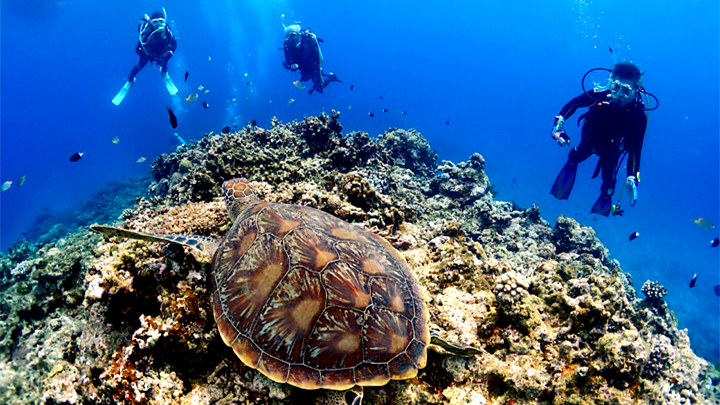 Gina
You are very likely to encounter sea turtles here. There are also uncountable colourful fish inhabiting this peaceful site.
Outside of the Kerama area
※We do not dive at the sites below. You can reach Ishigaki, Miyako or Yonaguni island from Naha by flight in an hour or more for the last too islands.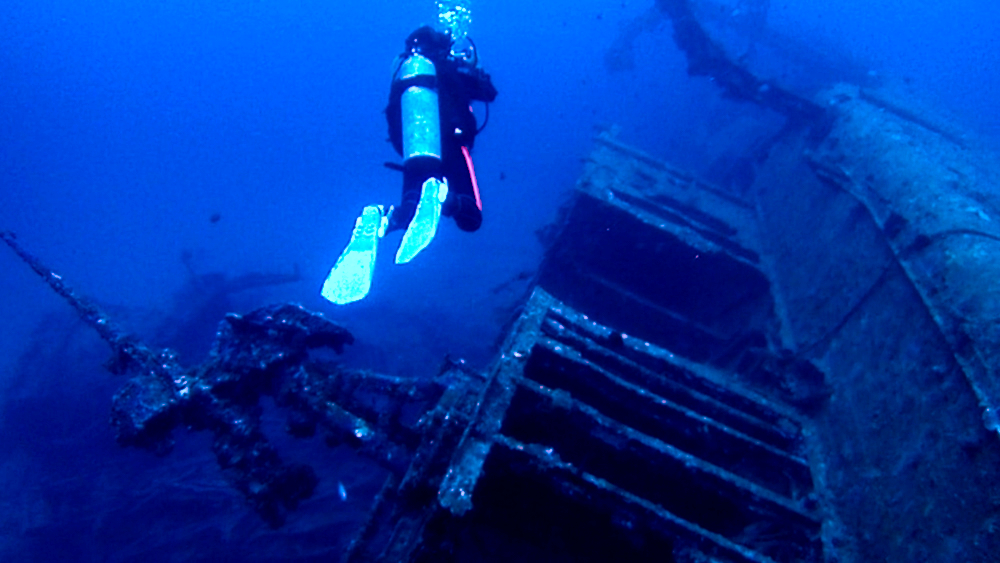 the USS Emmons
A famous wreak diving site. The shape of the boat is well preserved. The depth of its location and the strong currents makes it fit to advanced divers and above.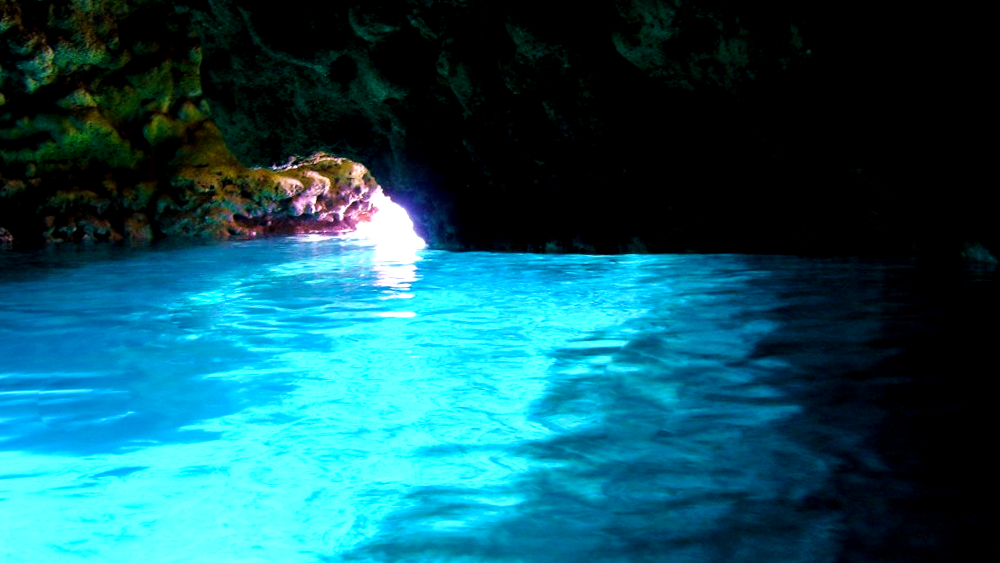 the Blue cave
Known a snorkelling spot and for the beautiful light coming into the cave. Located in the middle of Okinawa main land.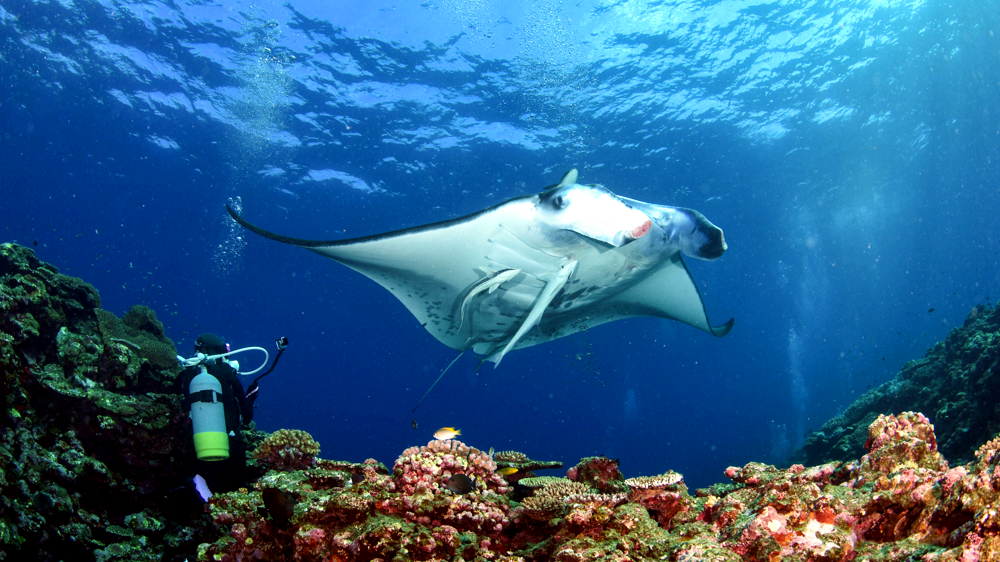 Manta city
Manta city in Ishigaki island is know as a manta's cleaning station. It is possible for beginners to dive here.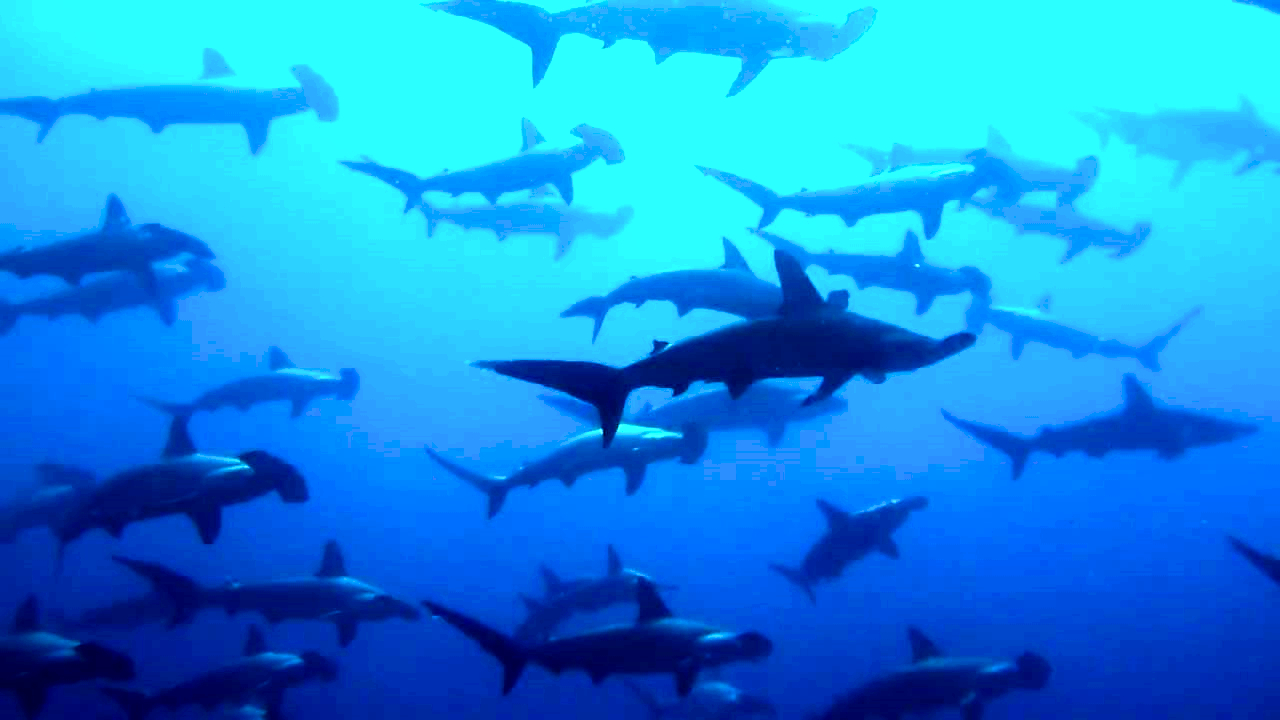 Irizaki
You can encounter a hundred of hammer head sharks in winter. Available to advanced divers because of its strong currents.
Choose your Style!
Stay in the city and enjoy all the sightseeing, dining, and shopping Naha has to offer!
Spend the night in the Kerama National Marine Park! Enjoy the island's laid back atmosphere and luxuriant nature!