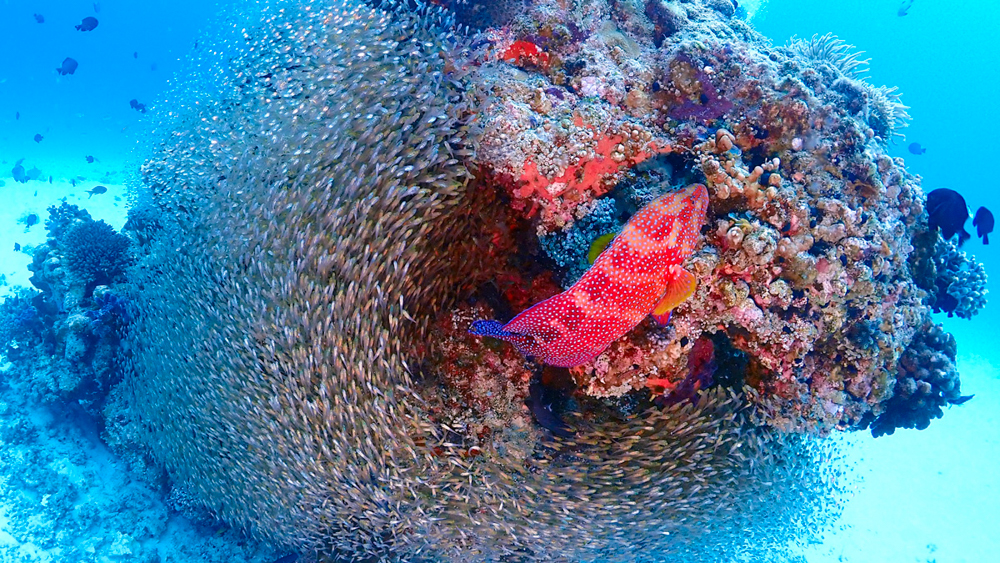 About our Activities
General questions
Please bring your swimsuit, some motion sickness pills, flip-flops and sunscreen.
Yes, you can snorkel or dive even if you cannot swim. Rest assured that we have professional instructors to take care of you, and life jackets will be used.
You can wear contact lenses under your mask if they are the soft type. Hard lenses are not fit for marine activities. Note that we rent prescription dive masks.
For safety reasons, we ask for your understanding regarding the following age restrictions on the tours below:
– Leisure Diving tours: 12 years old and above.
– Introductory Diving tours: between 10 and 60 years old.
‐ Snorkeling tours: between 6 and 65 years old.
Regretfully, we must answer no due to safety and insurance issues.
Introductory diving tours are for non-certified divers, while people with a license can participate in Leisure Diving tours.
You can stay underwater for a maximum of 20 mins and go as deep as 6 meters.
Yes, the warm weather makes it possible to dive all year round in Okinawa.
Unfortunately this will not be possible. By definition, a tour starts at a specific point and finishes when we come back to that same point. We are not allowed to end the tour by leaving you at a different place.
Cancellations may occur if the weather or sea conditions are deemed unfavorable or dangerous by our captains. However, tours usually aren't cancelled in case of light rain.
You can easily observe sea turtles all year round in the Kerama area. Manta rays are sometimes spotted, especially between the end of summer and the beginning of autumn.
About SEASIR NAHA
Yes, all our boats are equipped with shower rooms, lavatories and changing rooms.
Yes, we provide prescription dive masks with lens between -1 to -8 at Seasir Naha.
Yes, we have Korean, Mandarin, Cantonese and English speaking instructors.
You can. Just make sure you that did not book separately.
On introductory dives or a snorkeling tours, we will take photos of you if the sea condition allows us to do so. However, this isn't included in Leisure Diving tours.
We won't have enough space on board but we can keep your luggage in our office if requested in advance. Be aware that the space available is limited.
About SEASIR AKA
Our SEASIR Aka staff can speak basic English. For speakers of Chinese, Korean or other languages, we will assign them depending on their availability. Please ask our reservation center for further details.
You need enough skills to dive in complete darkness. We might reject a night dive booking if we judge it too dangerous for your level or experience in diving.
Please check a night diving page for more requirements.
Yes, we lend masks with corrective lenses between -2 and -7 at SEASIR Aka.
Of course. Please tell us where you're staying so we can pick you up before the tour.
You will have enough time to dive twice in the afternoon on your arrival day.
There is a Japan post office ATM.
You can withdraw money from 8:45 to 17:30 on weekdays and from 9:00 to 17:00 on Saturday, Sunday is closed.
A boat schedule is updated every morning at 8am on the zamami web site.
Select your language on the bar shown on top of the page.

Aka is a small island which has a traditional life style.
Making a camp and walking inside the village with swim suits are restrictively prohibited.
There is no convenience stores and super market on the island. There is a few small shop open until evening. Note that none of them take a credit card.
Reservations
Booking Procedures
Once your booking is processed, we will send you an invoice. You can pay online by credit card.
Sorry, but all bookings made on this website will have to be paid online by credit card.
Sorry, but we only finalize bookings after receiving due payment for them. You can book on this website and finalize your reservation by paying online by credit card.
We accept payments by cash, Visa, MasterCard, JCB, American Express, UnionPay, Alipay, LINE pay and Apple pay.
You will be able to book as early as 6 months before your desired activity date. For information, the high season runs from July to October. Please make sure to book early enough to save your spot!
Policies
This will depend on how early you decide to cancel your booking. Please read our cancellation policy page for further details.
We will refund you if we cancel any tour due to adverse weather or sea conditions.
We refund customers within 24 hours after a cancellation is processed. However, it might take longer for you to receive the money in your account. Please contact your credit card company to know how long it takes them to process refunds.
Transportation
About SEASIR NAHA
Transfers are provided to and from a list of fixed points located within Naha city. These are usually hotels. We can tell you which pick-up point is nearest to your lodging if you provide us with its name and address.
Please read our Access Informationpage for further details.
Transfers and their schedule will be sent to our customers by email, or at your hotel by fax a day before the tour at around 18:00. For indication, pick-ups are usually around 07:30 – 08:00 if you go on a full-day or a morning tour, and around 12:30 – 13:00 in the case of an afternoon tour. This may vary according to traffic.
Unfortunately we do not provide transfers outside of the city. If you are staying outside of Naha, please make plans accordingly.
You can park your car for free near our shop. Note that usage of the parking lot is solely for guests participating on a tour or activity on that same day.
Usually traffic is to be expected between 07:00 and 08:30 AM. You can add an extra 40 to 60 minutes to your journey to reach your destination.
About SEASIR AKA
Yes, our staff will arrange these transfers to and from Aka port for you.
There is no rental car company on the island. However, everything on Aka is easily accessible with a short bicycle ride.
Other questions
On average, the temperatures are:
Seas temperatures: 20℃ -24℃ from January to May, and averaging 15℃ outside.
Seas temperatures: 25℃ – 30℃ from June to December, and averaging 28℃ outside.
This makes diving in Okinawa possible all year round.
Yes, there is no risk preventing swimming or going underwater during menstruation as long as you feel comfortable with it.
For safety reasons, we are not allowed to provide or sell medications. We leave it up to each guest's discretion to prepare what they need to prevent motion sickness.
Sorry, but we do not offer these specific tours. All of our tours can be seen on this website.
We are afraid that these islands are too far to make it a day trip from Naha city. If you wish to dive at one of these locations, you will need to spend the night there.
We have liability insurance and accident insurance. In the unlikely event that an accident occurs during our tour, our insurance will cover the damage to the guest.