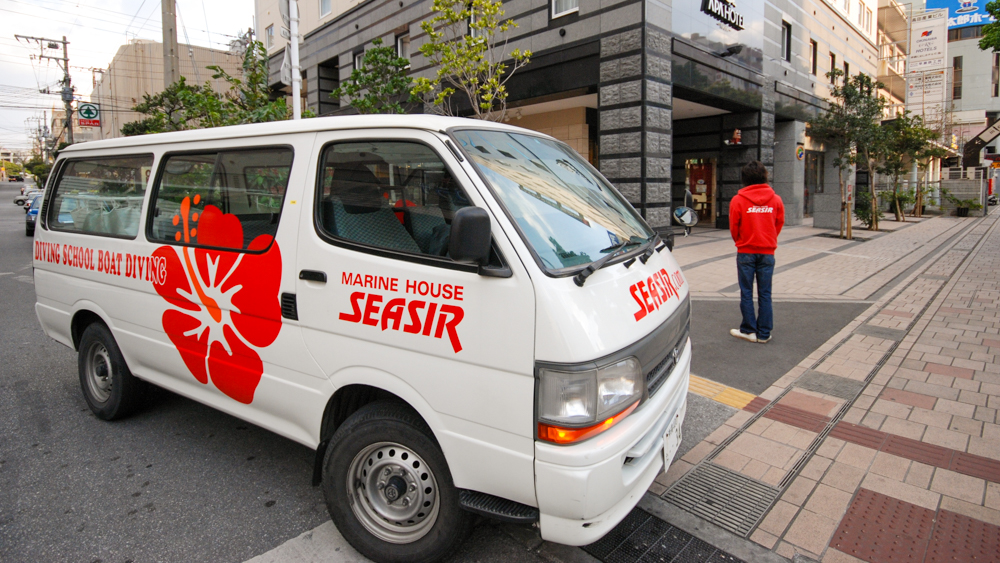 Hotel transfer
SEASIR Naha offers free hotel pick-up and drop-off service within a certain area of Naha.
If you are in need of it, please let us know at the latest two days before your booked activity.
Examples of commonly used hotels
We provide transfers to and from the following hotels.
Loisir hotel
Double tree by hilton NAHA
Mercure hotel
Hyatt regency
Hotel azat
MyPlace
etc…
We do not provide transfers to and from the following hotels.
Double tree by Hilton Shuri castle
Nobotel hotel
Ryukyu onsen Senagajima hotel
Gran mer hotel
Sazan beach hotel
Outside of Naha city (Chatan, Onna, Nago…) etc.
Our parking lot
If you wish to come with your own vehicle, you may use a parking lot near SEASIR NAHA at no cost.
No reservation is needed.

If you are not sure how to find it, feel free to stop by our equipment shop first (the Uminchu store).
We will show you how to get there.
Please make sure to arrive ahead of time as the store and shop will be crowded around the usual meeting time.
Shop address
2-3-13, Minato machi, Naha 900-0001
Google map
https://goo.gl/maps/xyotTiji5seDRwpH9
From Naha airport to Tomari port
To get to Aka island, you must take a ferry or a speed boat departing from Tomari port, in Naha.
You can get to the port directly from Naha airport by a choice of means.

Note that the speed boat terminal and the ferry terminal are both at Tomari port, but on different sides of it.
Ask the staff if you're not sure.
By taxi
This is the easiest way to get to Tomari port from Naha airport.
The trip is only a 15 minutes ride and costs approximately JPY 1,500.
By bus
You can ride bus No.99 from the airport and get off at Tomari Takahashi bus stop.
This will take about 45 minutes and costs JPY 230.

You will need to walk another 7 minutes from the bus stop to the terminal
if you chose to take a speed boat to Aka island.
By monorail
Take the monorail from Naha airport and get off at Miebashi station.
From there, the port will be a 10 to 15 minutes walk away.
You can do that distance in 5 minutes if you take a taxi.
From Naha to Aka island
You can come to Aka island from Naha by ferry or speed boat.
The time schedule changes according to the seasons.
It is highly recommended to reserve your seat more than a month in advance if you plan to travel during summer.

The webpage to book a seat is available in English (see the link below) and you can pay by credit card.
Zamami tourist information
Once on the page, click on the "Online ferry reservation" banner located on the right to reserve.
Speed boat
The ticket office is located on the north side of the port.
(Only a minute's walk from MyPlace!)
Be there at least 30 minutes before the boarding time.
Fares
One-way: JPY 3,200
Return: JPY 6,080
Duration of the trip
50 to 70 minutes
Ferry
The ticket office is inside Tomarin building and ferries depart in front of it. You can buy some drinks and lunch box at the terminal.
Fares
One-way: JPY 2,150
Return: JPY 4,090
Duration of the trip
90 to 105 minutes