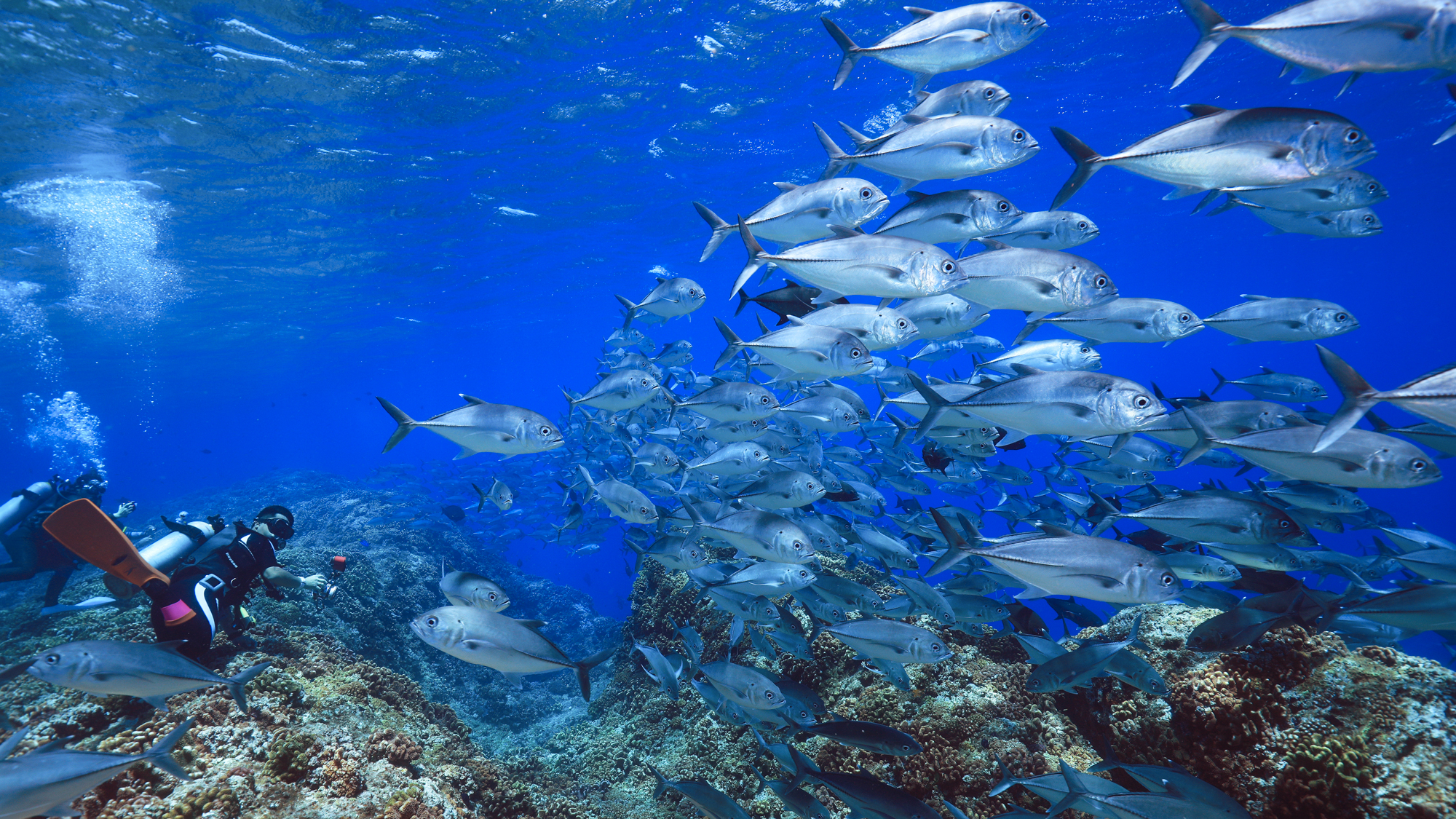 Dive into a dream
Stay on the island and unlock access to some dive spots otherwise inaccessible!

Located on Aka island, SEASIR AKA Island is but a short ride to those exceptional sites:
sailing back and forth dive spots in 10 to15 minutes is the local norm.
This allows us to come back for a rest after each dive and adapt to any change of schedule.

Note that in order to make sure everyone is having the best of experiences,
we group our divers according to experience and dive sites preferences.
Time schedule
8:40

Gathering & Gear set up

7:00. Time to refill on energy with a solid breakfast.
We will meet at the shop at 8:30 to gear up.

9:00

Morning Dive

Briefing on the boat: we leave for the first dive of the day!
All dive sites are only 5 to 10 minutes away.

11:30

Lunch

Schedule may vary according to our customers' requests,
and we may do our second dive in the morning.
In that case, lunch break will be around 1 pm.

13:00

Afternoon Dive

After our second dive, we will come back to Aka port and you will have some time to rest.
You can opt in for up to 3 dives a day.

16:30

Heading back

Nothing to do after you wash up your gear?
Why don't you get up to the rooftop and enjoy our jacuzzi?
Note: Night diving trips are also available upon request.
Tour Information
Price
・2 dives:

JPY 14,000



All prices include:

boat ride fee

guiding fee

tanks

weights

drinks



・Refresher course fee :+JPY 3,000

*


* Those who have experienced less than 30 dives and have not been dived for more than a year must take a refresher course.
・Option diving: +JPY 6,000 (Pay at the shop)
・Other equipment fees: see our Price list
Meeting point
Marine House SEASIR AKA Island
162 Aka, Zamami-son, Shimajiri-gun, Okinawa, 901-3311
Map code:905 078 529*24
Duration
2 hours per dive
Note: we offer a maximum of 3 to 4 dives a day.
Things to bring
・Diving license card
・Dive computer (Rental available)
・Swimsuits
Requirements
・Open Water License and above.
・Please read our Health check list and note that for your own safety we will not be able to let you go on a tour with us if you answer positively to one of those conditions.
Remarks
・Note that tours may be cancelled due to the weather or sea conditions. When possible, we may just change our destination. We will inform you of any such change the day prior to the tour.
・

Please be aware that you cannot board a flight within 18 hours after diving.

We recommend to avoid flying within 24 hours after diving.
・Please make sure that you read our Cancellation policy.
Other activities at SEASIR