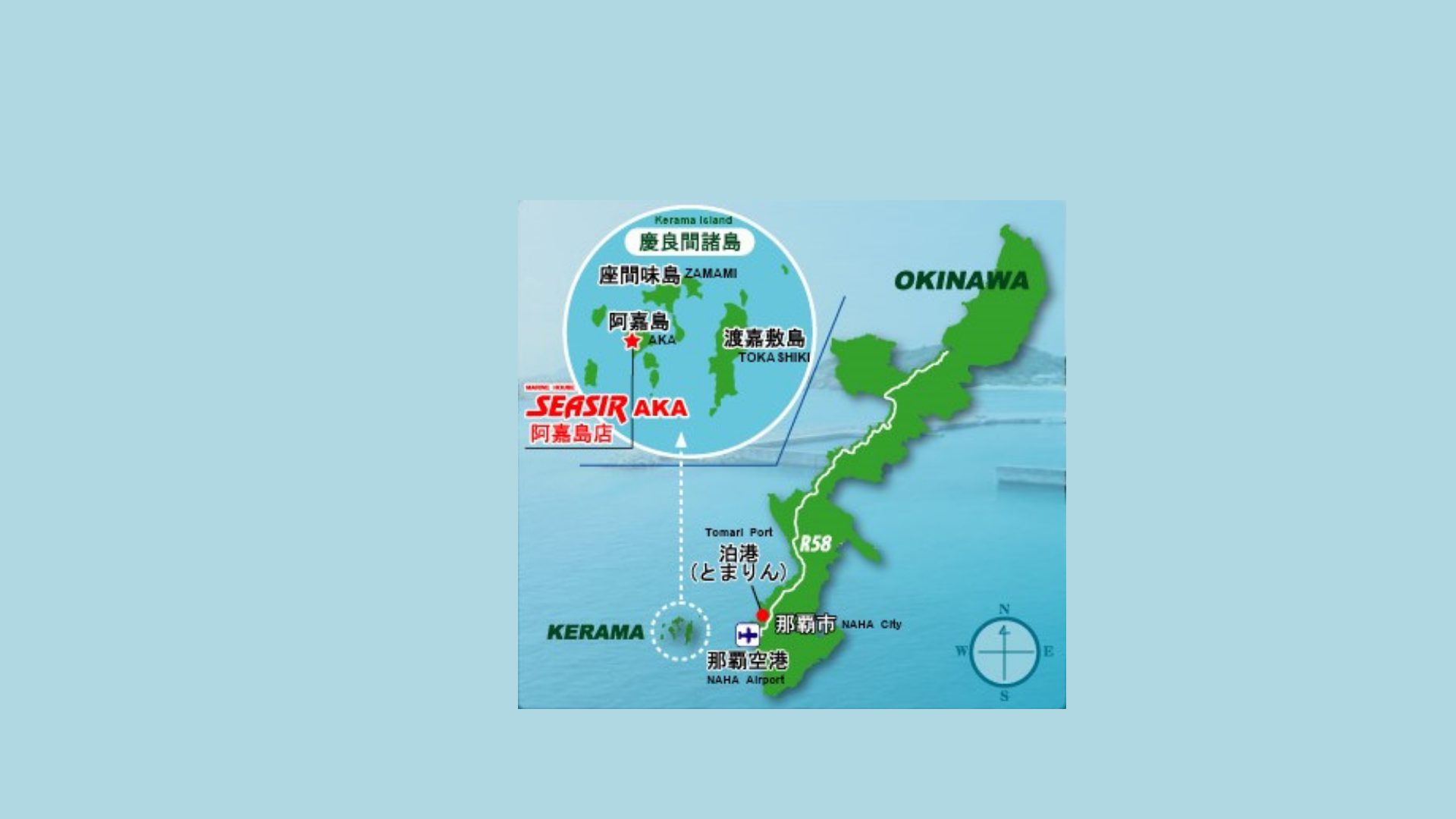 SEASIR AKA ACCESS
You can get to Aka Island via a ferry from Tomarin Port in Naha City.
We offers FREE transfer between AKA port and our store for customers who are join our activities or stay with us.
● Ferry Schedule・How to book a ferry ticket
● Naha Airport ⇒ Tomarin Port:Getting to Tomarin port from Naha Airport
● Terminal location of Queen Zamami & Ferry Zamami
● Alternative Methods of Transportation : Chartered Helicopters
● SEASIR AKA FREE Transfer service & Location
Ferry Schedule・Reserving Tickets
There are two high speed boat and car ferry lines from Naha to the Aka Island.
  Queen Zamami
    (high-speed)  
   Ferry Zamami   
Round-trip Fares
JPY 6,080
JPY 4,090
Duration
50-70 minutes
90-105 minutes
Maximum capacity
200名
490名
Tomarin⇒AKA
Regular timetable
・09:00 dep -10:00 arr
・15:00 dep – 15:50 arr
10:00 dep -11:30 arr
AKA⇒Tomarin
Regular timetable
・10:20 dep -11:10 arr
・16:00 dep -17:10 arr
14:30 dep -16:00 arr
Departing from
North pier (Hokugan) of Tomarin Port
South pier of Tomarin Port
(in front of Tomarin)
※ The Queen Zamami (high-speed boat) is smaller and has fewer seats, so tickets are sold out faster, and each passenger is limited to a maximum of 2 pieces of luggage. The Ferry Zamami is larger and more stable, it is recommended that travelers who are prone to seasickness or have a lot of luggage.
【Ferry Schedule】
 ● Zamami Official Web Ferry Schedule:The boat schedule varies each month, and the boat schedule may be changed due to the sea condition. Please confirm on the official website.
【Reserving Tickets】※As it is booked full soon during the peak season months from July to September. It is strongly recommended to reserve your tickets at least one month in advance.
 ● Zamami Ticket Office TEL (Japanese):098-868-4567 ※The tickets are available for reservation 2 months prior to the intended date of travel. TEL resevation opening hours 10AM-17PM.
 ● Web Ferry Reservation Sysstem (English):Credit card is required, and those with credit cards issued outside of Japan can only reserve tickets 23 days prior to the intended date of travel.
【More information】
 ● Zamami Official Web Ticket fares & Terminal Location
 ● Zamami Village Official English Guide
Naha Airport ⇒ Tomarin Access
【Taxi】
【Bus】
【Monorail】
Instruction
Tell the driver to take you to Tomari or Queen Zamami.
Take No.99 or No.120 Bus. 
Get off at "Tomarin takahashi stop" (泊高橋). Then walk around 7-10 minutes to Tomarin.
The closest station to Tomarin Port is Miebashi Station.  It takes about 15 minutes to walk from Miebashi Station to the Tomarin Port Terminal.
Approximate time spent
15 minutes
20 minutes Driving & 7-10minutes Walk
15 minutes Driving & 10-15 minutes Walk
Approximate costs
JPY 1,500
JPY 230
JPY 290
The terminal location for each vessel
Queen Zamami(high-speed)
The high-speed Queen Zamami leaves from the north pier (Hokugan). There's a Family convenience store diagonally across the street.


Ferry Zamami
Ticket office at Tomarin Building 1st Floor. There have a Lawson convenient stores and lunchbox shop at same floor. Ferry Zamami leaves in front of Tomarin.
● Customers must fill out a boarding application form first (even if you have a reservation) , then get the ticket from the ticket office.
● Customers should be onboard the vessel at least 10 minutes before scheduled departure time.
● Daily Updated Ferries Schedule:The finalized ferry schedule is updated daily on the Zamami Village Homepage at 8:00 AM. Ferries/High-speed are possible stop when the waves become high and unsafe to run the ferries. It is strongly recommended to check boat operating status on Zamami Village Homepage before going out on the day.
● Our sister company MyPlace Guest House is nestled in Tomarin port bay. Only 1 mins by walk to Speed boat terminal, and 8 mins by walk to ferry terminal. It is very suitable for travelers who are planning to travel to outlying islands!
Alternative Methods of Transportation:Chartered Helicopters
Chartered Helicopters are also an option, you could avoid the situation that Ferries/High-speed are stop due to bad sea condition on your schedule date.
● The normal price is JPY 132,000 per helicopter.
● It is take around 15 minutes from Naha airport to Kerama Airport.
● Max 5 passengers.
● Reservation for private charters is accepted at least one month before the scheduled date. (no shared flight).

Please contact Ilas Air Co., Ltd.(エクセル航空) for more information or reservation.
SEASIR AKA FREE Transfers
SEASIR AKA offers FREE transfer AKA port ⇔ SEASIR AKA
for customers who are join our activities or stay with us.
Also, we offer FREE transfer service to our store if you join our activities,
even you stay at other accomdation in Aka island or other islands.
Just put the accomdation name or the village boat arrival time at Aka when you make the reservation.
SEASIR AKA Location
【Address】162 Aka, Zamami, Shimajiri District, Okinawa 901-3311